12 Mistakes when you sell your Co.
When you
wanna,
need
or must sell
your company,
Don't pray …. Ask for help!
The big dozen mistake
you can make
when you sell
your company are:

1- maintain your expectation beyond fair market value
2- allow emotions to drive your decisions
3- go on negotiation as " Lone ranger " style 
4- take of your eye of the finish line – the final sale
5- go to market uncommitted – I invested my life and my blood …
6- use a business broker – has no history with the business, just objective 
7- wait to long to sell – you can't raid a dead horse …
8- treat confidentiality lightly – your awareness is maybe only your secrets
9- sell to a competitor – at the first sign start negotiating with them
10- ignore the importance of a CPA prepared financed papers 
11- don't clean up your room – nobody gives a sh… On your mess 
12- keep the wrong people on the bus – too much history lead to insubordinate 
Call us because we know
that your business is your heart
but we have no mercy for you
 or your buyer!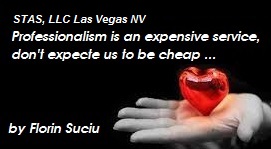 We LEAD!
Listen, Evaluate, Apreciate and Deal!